Getting Started
Choosing the right window and door begins with understanding your project. Let our selection guide walk you through the process and help you understand the options that need to be considered when selecting your windows and doors.
Determine Your Project Type
New Construction
These windows and doors are for a new home or home addition.
Replacement
For replacing existing windows and doors and custom-sized to ensure a good fit.
Choose Your Style
Choosing the right window and door style begins by understanding how they operate. If you're replacing your windows, take a cue from the window styles that are currently in your home. For a new home or a home addition, look for the styles that complement your home's architectural design.
Windows
Single Hung
Fixed top sash and an operating bottom sash that raises and lowers.
Benefits: Ventilation and increased weather resistance.
Double Hung
Both sash are operable and can be lowered from the top or raised from the bottom.
Benefits: Easy interior cleaning and versatile ventilation.
Sliding
Sash glide left or right horizontally on rollers to open and close.
Benefits: Open view and ample fresh air.
Casement
Hinged on the side, the sash opens outward with a simple turn of the handle.
Benefits: Unobstructed view and maximum ventilation.
Awning
Hinged on the top, the sash opens up and out with a turn of the handle.
Benefits: Offers venting even during rain.
Picture
A non-opening window that can accommodate large or small areas.
Benefits: Expansive view, natural light and weather resistance.
Geometric Shapes
A variety of non-opening windows in distinct circular, arched and linear shapes that work well with other styles.
Benefits: Increase character and curb appeal.
Bay or Bow
Combination of three or more angled windows creating interior space and exterior dimension.
Benefits: Unique style.
Doors
Sliding
Door panels glide open and close from the left or right.
Benefits: Space saving design
Hinged
Door panels swing open into or out of your home for easy access.
Benefits: Versatile operation.
French
Sliding or hinged patio doors with a broad rail and stile for an authentic French appearance.
Benefits: Classic appearance.
Identify Your Energy Performance Needs
Energy-efficient glass for any climate.
Our glass packages have been designed to deliver optimal performance and comfort for where you live.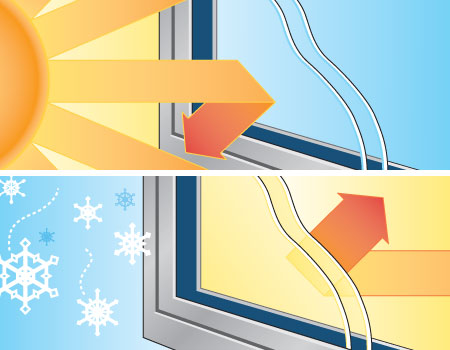 Low-E Glass
A transparent coating on the glass that helps deflect heat in summer and keep warmed air inside during winter. Specialty Low-E glass packages are designed to provide maximum efficiency in warmer and cooler climates.
Argon Gas
Six times denser than air, Argon gas is placed between glass panes for increased thermal efficiency.
ENERGY STAR®
Windows and doors can be ordered to meet ENERGY STAR guidelines for any climate zone.
Triple Pane Glass
Three panes of glass create two separate air spaces in the insulating glass unit for excellent thermal efficiency.
Title 24
Windows and doors in the west can be ordered to meet California's Title 24 requirements.
Enhance Your Home with Specialty Glass.
Different features & options are not available in all series, styles or regions of the country.
Glass Options
Choose from a variety of specialty glass options that can enhance your day to day life by reducing unwanted noise from entering your home, enhancing security, increasing privacy and adding storm protection in coastal regions.
Increased Security
Laminated glass with a durable PVB interlayer helps prevent forced entry whether you're home or away.
Sound Reducing
Decrease unwanted sound from entering your home with acoustic glass that uses different glass thickness or laminated glass.
Added Privacy & Design
Choose patterned glass to obscure the view into your home. Some decorative styles add unique design and curb appeal.
Safety Glass
Stronger than normal glass, tempered glass safely breaks into pebbles instead of shards.
Tinted Glass
Bronze or grey tinted glass helps control solar heat gain while reducing glare and visibility into your home.
Storm Protection
Select products featuring impact-resistant laminated glass that have been tested and approved by the Florida Building Code to weather high winds and wind-borne debris in coastal areas.
Customize Your Windows and Doors
Not all features & options are available on all series, styles or regions of the country.
Color
Follow your home's design and personal style to find the right interior and exterior color for your windows and doors.
Add curb appeal with a designer exterior color.
A woodgrain interior laminate adds warmth to any home design.
Vinyl color is integrated into the profile for long-lasting beauty.
Grille Options
Window grilles elevate the architectural character and curb appeal of your home. Grilles between glass panes never require dusting or cleaning. Simulated Divided Lites are dramatic,raised grilles that give the look of traditional window panes.
Hardware Options
Durable hardware tightly closes your window and door for increased weatherability and meets forced entry requirements for added peace of mind.  From color-coordinated or designer metallic finishes to specialty hardware for increased safety and accessibility, our series has the hardware to meet your needs.
Frame Options
Available frame options provide accurate installation of your windows and doors and can add eye-catching curb appeal. Your installer can provide guidance on which frame you'll need for your project and home's architecture.